Liposuction
Los Angeles, Pasadena, Covina, Arcadia, & Hollywood, California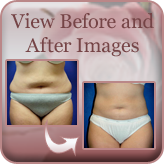 Liposuction is the ultimate body contouring procedure. With this targeted fat reduction technique, Dr. O'Toole can help you reshape areas of the body with too much padding to highlight the muscle tone underneath.
Types of Liposuction
Pasadena Cosmetic Surgery offers two types of liposuction: Power-assisted liposuction (PAL) and Laser-assisted liposuction (SmartLipo™). Both are FDA-approved techniques for fat reduction that have proven to be very safe and effective. PAL, also referred to as traditional liposuction, involves extracting fat tissue using a small vibrating wand called a cannula connected to a motorized handpiece. Suction power is used to draw the fat out, allowing Dr. O'Toole to remove a predetermined amount of fat with precision. SmartLipo uses targeted laser energy to make fat removal easier and less invasive than traditional liposuction. The laser energy also promotes skin tightening.
Both procedures are intended for small, area-specific fat reduction and should not be used as a large-volume weight loss tool. As you choose your body contouring procedure and your surgeon, remember that experience is important in achieving the best results.
Liposuction Candidacy
If you have excess fat in the thighs, hips, back, love handles, knees, stomach, arms, or face, liposuction may be a good surgical solution for you. To be considered for liposuction, you should have a healthy BMI (Body Mass Index) and a stable weight. Liposuction is also used in the male breast reduction procedure for men with gynecomastia. Liposuction is used frequently during a tummy tuck to help contour the waist and hips.
Your Liposuction Procedure
First, anesthesia is administered to ensure your comfort (general anesthesia for PAL patients, local anesthesia with sedation for SmartLipo patients). Also, a saline solution with anesthetic is injected into the treatment site to make fat removal easier, shrink blood vessels for reduced bleeding, and minimize discomfort.
Depending on the method chosen, Dr. O'Toole will use either the PAL wand or the SmartLipo laser to remove fatty tissue. With PAL, very small suction cannulas vibrate quickly to break up the fatty tissue and assist in removing it by suction. With SmartLipo, the heat from the laser is used to liquefy the fat. After the ideal amount of fat is extracted, Dr. O'Toole will suture up the incision site.
Click here to learn more about Choosing a Liposuction Surgeon in Los Angeles.
Watch a 3D animation of a liposuction procedure
Please contact Pasadena Cosmetic Surgery today to set up your complimentary first appointment. Dr. Martin O'Toole serves patients in Los Angeles, Arcadia, Covina, and Hollywood, California.