Smartlipo®
---
It's natural to become frustrated when stubborn pockets of fat refuse to disappear, especially after following a long term dietary and fitness regimen that is meant to target those specific spots. At Pasadena Cosmetic Surgery, we offer several options to remove those stubborn pockets of fat, providing you with a more toned and sculpted body.
Smartlipo® – Los Angeles Plastic Surgery
Los Angeles & Pasadena California
Los Angeles plastic surgeon Dr. Martin O'Toole can help you attain the sleek and slender body you long for using the most advanced form of Smartlipo®. This increasingly popular cosmetic procedure is renowned for its ability to literally melt away fat from the hard to reach areas of the:

Back
Buttocks
Abdomen
Flanks
Thighs
Breasts
Arms
Neck
Face
Only a handful of plastic surgeons in Southern California use this body contouring system. In fact, Dr. O'Toole is one of the few physicians in the San Gabriel Valley to incorporate this technology into his practice.
How Smartlipo® Works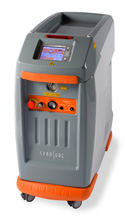 Smartlipo®, regarded as the most superior type of laser-assisted lipolysis, is an extremely effective, minimally invasive alternative to traditional liposuction. Dr. O'Toole begins by inserting a small tube with a laser tip under the skin. He will then proceed to gently shift the instrument around the desired area in order to direct laser light energy to the fat cells. The purpose here is to heat and rupture the cells so they naturally flush away from the body. One of the unique aspects about the Triplex device is its triple wavelength technology, which emulsifies fat and tightens skin for maximum results with minimum risks.
As with all of our services, the Smartlipo® procedure is heavily dependent on your initial consultation with our plastic surgeon. Under the guidance of Dr. O'Toole, you will pinpoint and discuss the exact fatty areas you wish to reduce and tone, enabling him to design your customized treatment plan.
The Benefits of Smartlipo®
Smartlipo® offers you a variety of benefits, including:
Gets rid of localized fat
Contours designated areas of the body
Triggers tightening of the skin
Corrects defects from traditional liposuction
Minimally invasive, unlike traditional liposuction
Minimal side effects, meaning less bruising and bleeding
Quick recovery time and only a few days of downtime
Long-lasting results that begin to appear immediately after the procedure
Is Smartlipo® Right for You?
Ideal candidates for Smartlipo® should be in good overall health. Los Angeles plastic surgeon Dr. Martin O'Toole looks for patients who are of normal body weight, yet struggle to target certain areas of fat through diet and exercise. Your suitability for the procedure will be determined during the consultation process, where Dr. O'Toole will evaluate your medical history and personal aesthetic concerns.
Watch a 3D animation of a liposuction procedure
---
Please contact Pasadena Cosmetic Surgery today to schedule your complimentary Smartlipo® consultation. Dr. Martin O'Toole serves patients in Los Angeles, Covina, Arcadia, and Hollywood, California.