FOR IMMEDIATE RELEASE
A Family Affair: Dr. Adam O'Toole Returns to California and Joins Father at Pasadena Cosmetic Surgery
Renowned Pasadena plastic surgeon welcomes son to his distinguished practice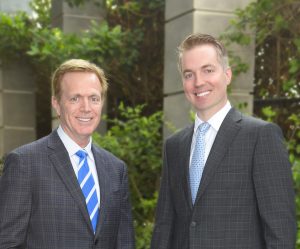 PASADENA, CA – Adam O'Toole, M.D., a board eligible plastic surgeon, has returned to Los Angeles. He joins his father, long-esteemed and double board certified plastic surgeon, Dr. Martin O'Toole, at Pasadena Cosmetic Surgery.
Of working together, Dr. Martin O'Toole said, "We've waited a long time for this moment and I'm thrilled to welcome my talented son into my practice. I know he'll be an incredible asset to the Los Angeles surgical community."
Raised in La Cañada Flintridge, Dr, Adam O'Toole earned his medical degree from Creighton University. He then completed his General Surgery Residency training at Dartmouth-Hitchcock Medical Center, after which, he was certified by the American Board of Surgery. Then Dr. O'Toole completed a three year plastic surgery fellowship in Kentucky at the University of Louisville, a mecca of historically groundbreaking research in hand and reconstructive surgery.
Dr. O'Toole has trained directly with top surgeons, nationwide, to bring the latest techniques back to California. Returning to Los Angeles, he joins his father, who has been practicing in Pasadena for over 24 years. They practice out of their elegant Fair Oaks office, recently completed as an AAAASF certified surgery center.
Drs. Adam and Martin O'Toole were recently featured in Pasadena Magazine's 2021 Top Doctors.
Dr. Adam O'Toole is affiliated with several hospitals and surgical centers to conveniently serve his patients:
Huntington Hospital
Glendale Adventist Hospital
Verdugo Hills Hospital
Glendale Memorial Hospital
Arcadia Methodist Hospital
Dr. Adam O'Toole offers a wide range of surgical procedures, including, but not limited to, Breast Augmentation, Liposuction, Tummy Tuck, Mommy Makeover, Brazilian Butt Lift, Facelift, Rhinoplasty, Reconstructive Surgery, and more including a full line of Injectables and Fillers and Skin Care Products.
Dr. O'Toole provides top-notch reconstructive and cosmetic surgical care. "I love working with my patients to provide tailored results without the pressure."
For more information about Pasadena surgeon Dr. Adam O'Toole or Pasadena Cosmetic Surgery, call (626) 449-8910 or visit www.pasadenacosmeticsurgery.com.
###