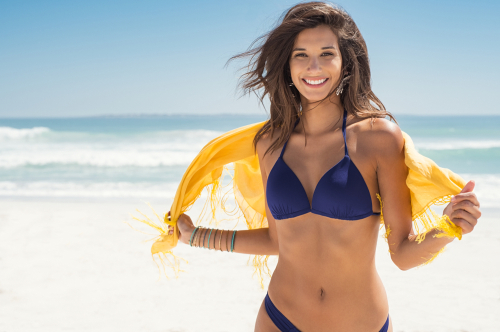 Many women base their satisfaction with their body on the appearance of their waistline. A slim waist is a feature that many women would do anything to achieve, even if that means undergoing cosmetic surgery. Several things can affect the size and shape of a woman's waist, such as pregnancy, weight fluctuations, and age; and it often feels as though the waist is one of the most fickle areas of the body. And to make things worse, the waist is an area that does not always respond to diet and exercise. To better the contour of your waist and enhance your confidence, Dr. O'Toole offers body contouring procedures that may be ideal for you.
1. Liposuction
Liposuction has long been the number one cosmetic procedure for the removal of unwanted fat. Most body contouring procedures, no matter what area you are trying to treat, include liposuction in combination with another surgery. However, the waist is by far one of the most common treatment sites. Liposuction reduces the number of fat cells you have in your body by surgically removing them with the help of a suctioning device. This technique creates stunning contouring results with reduced downtime and virtually no scarring, as the liposuction incisions are so tiny. Liposuction restores definition to your midsection so that you can go on with improved confidence and self-esteem. Patients who can benefit from liposuction have localized pockets of fat and are relatively close to their ideal weight. As liposuction does not address skin laxity, candidates should retain good skin elasticity.
2. SmartLipo®
SmartLipo® is similar to the traditional liposuction procedure. The difference is that instead of simply suctioning out the unwanted fat cells, as is done with traditional liposuction, SmartLipo® uses concentrated light energy to melt the fat before it is suctioned out, allowing for easier removal. SmartLipo® also goes one step beyond liposuction in that it can tighten skin in the treatment area. SmartLipo® is ideal for those individuals that are looking for both fat removal and skin tightening.
3. Tummy Tuck
For patients who desire a more extensive alteration of their waistline, tummy tuck surgery is still the way to go. This procedure overhauls the waistline by removing excess skin and tightening the underlying muscles of the stomach. Tummy tuck surgery is commonly paired with liposuction when excess fat is present. This procedure is ideal for patients after pregnancy or significant weight loss.
If you are interested in cosmetically slimming your waistline, contact Dr. O'Toole by calling (626) 449-8910 to set up a consultation.