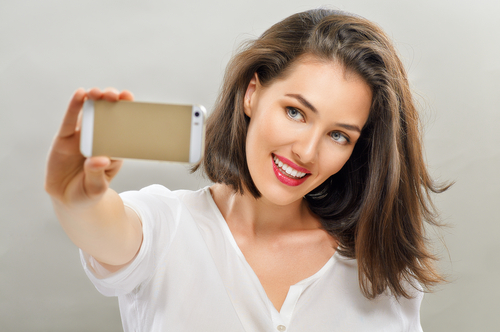 For better or worse, millennials can always claim a substantial involvement in the rise of social media. As the "selfie" generation, millennials are no strangers to altering their photos to enhance their online presence and profile. With a camera glued to their hand, and their social media feed just one swipe away, a desire to always be "photo-ready" has developed in a big way.
There is no denying that social media, and especially the images posted, has created a heightened consciousness of one's physical appearance. Nowadays, just about everyone knows what their best selfie angle is and how to position their face to catch the best lighting.
Photo apps and filters provide everyone with editing tools that were once only available to professionals to airbrush and resize features. While technology has given many millennial women the technical tools to alter their online appearance, many in this selfie generation are taking it one step further.
Plastic Surgery on the Rise
Over recent years, plastic surgeons have noticed a not-so-surprising trend: millennials turning to surgery to better their appearance on social media. Over the previous five years, the number of cosmetic procedures performed on millennials has nearly doubled, with considerable increases in both non-invasive and surgical procedures.
According to a study by the American Academy of Facial Plastic and Reconstructive Surgery, more than half of all plastic surgeons have come into contact with patients who want their natural look to match their favorite Snapchat filter.
What Procedures Are Seeing Increases?
Non-invasive procedures have gained serious momentum in the past decade. Before then, women didn't know the names of facial fillers like JUVÉDERM®, RADIESSE®, and BELOTERO BALANCE®. They probably heard of BOTOX® Cosmetic, but it likely seemed like something that was reserved only for the elite.
Now, however, these brands are household names thanks to social media.
In 2018, over 70 percent of plastic surgeons saw an increase of injectable treatments on patients under the age of 30. These treatments enhance lip size, raise and highlight the cheekbones, fill out acne scars, and smooth the onset of wrinkles.
For many younger women, injectables have become a way to stay ahead of the aging process and ensure that they are always ready to face the camera.
Non-invasive injectables are not the only cosmetic procedures that are seeing a significant bump in popularity; rhinoplasty and blepharoplasty have both increased among the younger generation.
Many women have expressed concerns about how selfies may give their nose a wider appearance. This single dissatisfaction is sending women to plastic surgeons in droves so that they can undergo rhinoplasty to recontour underlying nasal bone and cartilage.
Another cosmetic surgery that is seeing an increase among younger patients is blepharoplasty (eyelid surgery). While this was once a treatment considered only by patients further along in the aging process, eyelid surgery is becoming a go-to procedure for young women who want to enlarge their eyes.
How Does This Affect Millennials?
Men and women are becoming increasingly less hesitant to admit they have had cosmetic surgery done; instead, they promote it on their social media feeds and tag before and after photos.
The popularity of the procedures and the ability to instantly share and engage with content will only cause the plastic surgery trend to rise further.
For more information on dermal fillers, rhinoplasty, or blepharoplasty, contact Dr. O'Toole by calling (626) 449-8910 or by filling out our online contact form.