3 Minute Read: 
Before the pandemic, it was normal to go to work and socialize with our coworkers or go out to lunch with our friends. And while our faces were always on display, we had so many other things on our minds that we didn't always focus on the developing lines or hollowing features. 
And then the pandemic happened. Overnight, people were forced from their offices to their homes, many conducting business on video conferencing apps like Zoom or Google Meet. While these apps allowed business to continue, they also had another effect.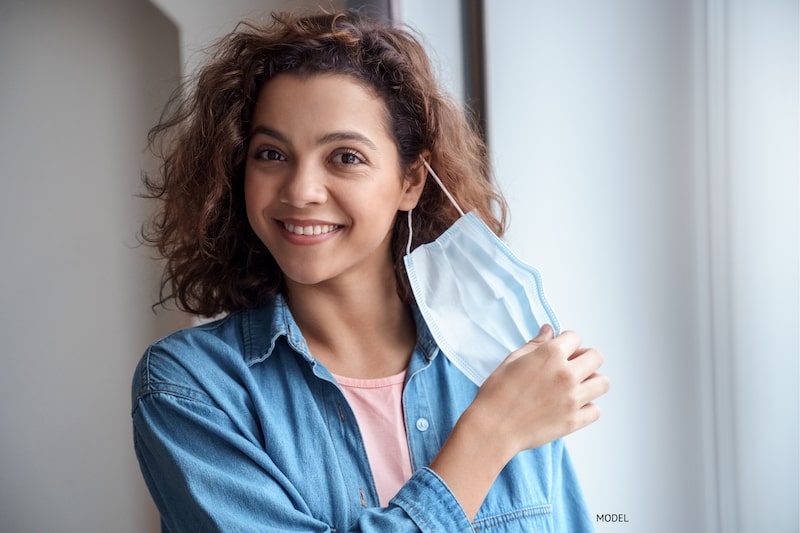 As it turns out, many men and women struggled with having to look at their aging features on a camera every day, a camera with poor lighting and unnatural close-ups. This resulted in a boom of interest in facial plastic surgery procedures in the latter half of 2020, and this heightened desire is still going strong.  
So, as we start venturing back out into the world, is now the time to consider facial plastic surgery? Learn about the vast offering and benefits open to you.
How Can Plastic Surgery Affect My Appearance?
Plastic surgeries allow you to modify your face and body in ways that provide you with young, smooth skin, regardless of your age or environment.
This becomes more prevalent in people who are starting to see the effects of age wear on their skin because society as a whole prioritizes maintaining a youthful appearance, regardless of age.
What Kinds of Facial Plastic Surgeries Can I Choose?
Brow Lift
Brow lift surgery assists with crease and wrinkle removal from your forehead area. Brow lifts can also get rid of furrows and creases around the nose area and lift drooping eyebrows.
Facelift
Facelift surgery can assist in wrinkle removal, providing smooth skin to give you a more youthful appearance. Facelifts assist in getting rid of drooping jowls, facial sagging, and nasolabial creases that show the wear and tear of age and our environment.
Neck Lift
Neck lift surgeries also assist in correcting drooping jowls, getting rid of neckbands, double chins, etc. This surgery helps enhance the results of a facelift; however, it does not require a facelift.
BOTOX® Cosmetic
BOTOX® Cosmetic treatments are designed to soften wrinkles and various other expression-causing lines that can develop around the eyes and brows or along the mouth, creating smoother, wrinkle-free skin.
JUVÉDERM®
JUVÉDERM® is an injectable dermal filler consisting of hyaluronic acid, which is naturally produced by our bodies. JUVÉDERM® restores facial volume, which helps minimize facial imperfections such as wrinkles, creases, scars, etc.
Laser Skin Resurfacing
Laser skin resurfacing, such as a CO2 laser, is done to treat skin conditions such as acne scars, wrinkles, dark spots, etc. Laser skin resurfacing helps restore your skin from damage done due to sun exposure.
Interested in Learning More About Facial Plastic Surgery in Pasadena?
The pandemic has led many individuals to consider their physical appearances, heightening the desire for plastic surgery. 
If you are interested in any of the above treatments or any other breast or body contouring procedure, contact Dr. Martin O'Toole at Pasadena Cosmetic Surgery by calling (626) 449-8910 or filling out our online contact form.