3 Minute Read: 
Facelift surgery was the third most performed cosmetic surgical procedure in 2020, and when you look at the results of a facelift, there's no wondering why. 
A facelift can help you look years younger by giving you the defined and contoured facial appearance that you've always wanted. However, despite the name face-lift, this procedure does not address the entire face. 
Instead, a facelift only targets the lower two-thirds of the face (from the cheeks to the neck).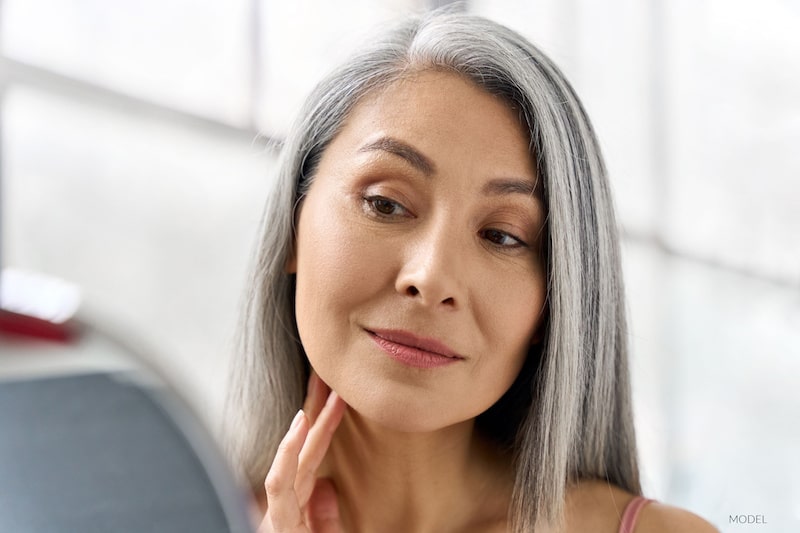 While the improvement offered by facelift surgery is dramatic, a facelift may not be able to give you complete results if you also suffer from aesthetic issues in the upper face (the area above the cheeks). 
If you are looking to correct issues in your low to mid-face as well as issues with the skin around your eyes, including droopy or puffy eyelids and dark circles and bags under your eyes, then combining eyelid surgery with your facelift can be the smartest decision. 
Below, you will find some information on these two procedures to help you decide whether combining facelift and eyelid surgery is right for you.
What Is Facelift Surgery?
Facelift surgery is an effective cosmetic procedure that tightens facial muscles and removes sagging skin in the lower and middle areas of the face. This procedure can also effectively minimize the presence of jowls, wrinkles, and fine lines that develop on the face as a result of age or lifestyle. 
For this procedure, Dr. O'Toole will make an incision at the temples. This incision will extend down the profile of your face, stopping at your lower scalp. 
Dr. O'Toole will then manipulate the muscular structure and underlying tissue in your face, removing and redistributing fat in the area as needed, to give you a more balanced and youthful aesthetic. 
Any excess and sagging skin will be surgically removed, and the incisions will be closed with sutures. 
What Is Eyelid Surgery?
Sagging eyelid skin can make you look old and worn down, and it can also obstruct your vision.
Eyelid surgery (blepharoplasty) is very much what it sounds like. This procedure helps to correct issues on the eyelids and can be performed for both cosmetic and functional purposes. 
This procedure can be performed on the upper eyelid (upper blepharoplasty), lower eyelid (lower blepharoplasty), or both. 
Depending on the type of blepharoplasty performed, Dr. O'Toole will make an incision either in the natural creases of the upper eyelid or just below the lower eyelash (or on the inside of the lower eyelid). These incision placements allow Dr. O'Toole to make the necessary corrections as well as hide any scarring from view. 
After the incision is made, Dr. O'Toole will tighten the muscle and tissue as well as remove and/or redistribute any unwanted fat in the area. 
Additionally, excess and sagging (drooping) skin can be surgically removed to give you a more youthful and aware appearance.
Why Should You Think About a Combination Procedure?
Combining facelift surgery with eyelid surgery not only allows for a more complete and balanced facial appearance, but it also can cut down on the overall price and recovery time. That is because you are having and recovering from both treatments at the same time instead of separately. 
If you are looking for even more dramatic facial rejuvenation, then you may want to also consider adding other eye rejuvenation procedures to your facelift, like a brow lift (forehead lift). 
Any one of these procedures offers stunning improvements to your facial appearance, but when you combine them, you are able to have a complete transformation!
Interested in Learning More?
If you are interested in facelift surgery or eyelid surgery, either as standalone or combined procedures, then contact Dr. Martin O'Toole or Dr. Adam O'Toole today by calling (626) 671-1756 to set up a consultation.