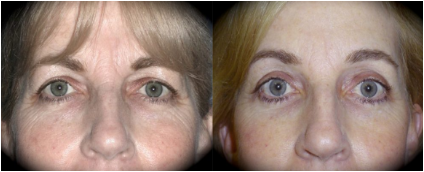 Many of us look in the mirror and find that time and gravity have taken a toll on our facial skin. The skin starts to sag and wrinkle, weighing down our confidence. Some of us may emulate with our hands what our faces would look like if we "lifted" the skin back on certain areas of the face. Plastic surgery is an option that comes to mind to correct the effects of lost skin elasticity and aging, but what procedure is the one right for your facial anatomy and goals? This can be determined based on the area of correction and severity of your facial skin.
Improve Aged and Tired-Looking Eyes
The eyes are how we view the world and are one of the first indicators of our age. When someone has loose, hanging skin in the upper or lower eyelids, it can make them look aged, tired, and stressed. Eyelid surgery is an ideal option for those who want to lift and rejuvenate the eyes. Many people feel as if excess skin and tissue are not only cosmetically unappealing but also functionally disturbing. Some people have an excessive amount of skin blocking their peripheral vision. During eyelid surgery, excess skin and tissue are removed and the eyes are lifted into a more youthful position, improving the overall look of the eyes.
Lift and Tighten the Jowls and Neck
Once the aging process takes hold, the skin elasticity starts to decrease. The face will begin to lose volume, and the skin will start to sag. Fine lines, wrinkles, and creases will develop along the jowls, cheeks, and neck. Even with a healthy skin care regimen and at-home treatments, many try to fight off superficial signs of aging and have little to no success. Facelift surgery is designed to address deep creases between the nose and mouth, drooping jowls, and displaced fat deposits. Someone wanting to target the lower half of the face can benefit from facelift surgery.
Get Rid of a Turkey Neck
Often, a neck lift is performed along with a facelift to correct neck bands that cause the appearance of a turkey neck. Patients can greatly improve their overall facial profile by undergoing a facelift along with a neck lift. Facelift surgery concentrates on the jowls and cheeks, while neck lift surgery addresses any vertical banding starting from beneath the chin down to the neck.
If you are looking to lift the facial skin, schedule your consultation with Dr. O'Toole to find out which procedure is right for you. Contact us by calling (626) 449-8910 or by filling out our online contact form.