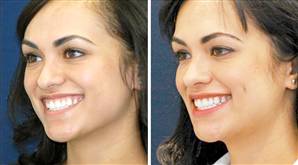 Fads come and go and it is likely that the concept of putting new dimples on your face is a fad. In plastic surgery staying current with trends both medical and non-medical is a very important part of helping patients to understand choices that are best for them long-term. Dr. O'Toole takes the time to speak with patients at length not just about the procedures that he offers but about specific goals and desires that they have for the procedure that they are considering. Often patients may believe that a procedure is exactly what they want. For example,patient may request arhinoplasty because they do not like their profile and believe that their nose is too large. After consultation with Dr. O'Toole, they may learn that a rhinoplasty combined with chin augmentation using a chin implant is a better option. Long-term as the patient ages Dr. O'Toole may determine with the patient that this will provide a closer match to their desire expectations. Creating dimples through plastic surgery could be difficult for patients to like long-term as they age. According to MSNBC there are no statistics on how many dimple-plasties are performed each year, but the dimple fabrication procedure has recently popped up on beauty forums, consumer sites and on an episode of the television show, "The Doctors." Considering the new crop of adorable celebrities with indentations — such as Carey Mulligan, who recently snagged a best actress Oscar nomination for "An Education" — instant dimples may even become the next star-fueled trend de jour.
___________________________________
Schedule your Consultation Today!
More on Dr.O'Toole
Become a Fan on Facebook
Follow us on Twitter