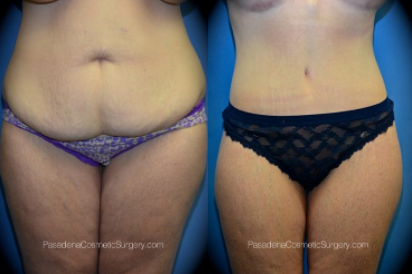 Bariatric surgery is a very effective means to quickly rid the body of excess weight and reduce the risk of a myriad of obesity-related illnesses. While the procedure boasts some major advantages, unfortunately, it almost always results in cumbersome, excess skin that can only be removed with plastic surgery. Post-bariatric body contouring procedures are the completely customizable solution to excess skin and the associated problems. Below are some of the questions about post-bariatric body contouring that patients ask at Pasadena Cosmetic Surgery.
What happens during a body contouring consultation?
At your complimentary consultation, our patient care coordinator will first provide you with an overview of the practice. She will gather valuable information from you regarding your lifestyle, medical history, and goals for what you hope to accomplish. Dr. O'Toole will then answer any questions you have, and let you know how body contouring may or may not be the best choice for you. He will then take a physical assessment of the areas you wish to improve and will recommend the procedures that will help you arrive at your aesthetic goals. During your consultation, there is no pressure to commit to surgery; we will follow up with you to answer any further questions you may have.
Is achieving ideal body weight required before body contouring?
Reaching your ideal body weight before body contouring is not required, but it is recommended. The lower your body fat percentage, the better your final outcome will be. You may combine liposuction with skin removal procedures to remove excess fat along with excess skin, but you must keep in mind that liposuction is intended to sculpt the body and will not result in significant weight loss.
How long does it take to get back to normal after body contouring?
Recovery time for body contouring varies from patient to patient, and it depends on the extent of the procedure and the number of procedures combined. Patients should plan to take at least two weeks off from work and other important responsibilities to allow the body to heal. Most of the swelling will subside after a few weeks, but some degree of swelling may be present for a few months. Usually, patients can resume exercise within eight weeks.
How long do the results of body contouring last?
The results of body contouring are permanent unless you gain a significant amount of weight or become pregnant. Even if you do gain weight, your body will mostly maintain the newly sculpted contours achieved with your body contouring procedure.
If you are interested in body contouring procedures, please contact Pasadena Cosmetic Surgery for your complimentary consultation. Call (626) 449-8910 or fill out our online contact form today.