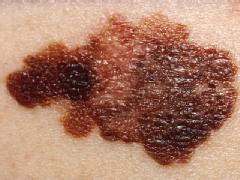 According to The Los Angeles Times The Food and Drug Administration  bolstered the skimpy pharmaceutical arsenal against late-stage melanoma by approving Yervoy, the first drug shown to extend the lives of patients with the deadly skin cancer.
The drug, marketed by Bristol-Myers Squibb Co. of Princeton, N.J., is the first FDA-approved treatment for metastatic melanoma in 13 years and has triggered particular interest among oncologists because there are indications that, in addition to prolonging some patients' lives, it may cure others.
Melanoma is the most dangerous type of skin cancer, killing an estimated 8,700 people annually in the U.S. About 68,000 new cases were diagnosed in 2010, according to the National Cancer Institute.
Patients with early stages of the disease can usually be treated successfully with surgery.
But existing treatment options for late-stage melanoma, including chemotherapy and Proleukin — the last drug approved for the disease — are effective only in a limited number of patients.
"Late-stage melanoma is devastating, with very few treatment options for patients — none of which previously prolonged a patient's life," said Richard Pazdur, head of the FDA's cancer drug office. "Yervoy is the first therapy approved by the FDA to clearly demonstrate that patients with metastatic melanoma live longer by taking this treatment."
In Southern California, it is not uncommon to see patients in various stages of skin cancer. Dr. O'Toole strongly urges his patients to use sunscreen on a daily basis. It is well-known that the sun is a major contributor to not only skin cancer, but premature aging of the face. Skincare treatments regularly as well as injectables and fillers help to maintain your most youthful look. For healthy skin, a facelift may also be an option.
___________________________________
Schedule your Consultation Today!
More on Dr.O'Toole 
Become a Fan on Facebook
Follow us on Twitter