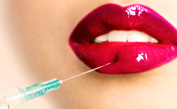 An advisory panel for the U.S. Food and Drug Administration voted last week to recommend that Restylane®, the popular hyaluronic acid-based dermal filler that is already approved for the treatment of facial wrinkles, be approved to augment the lips. FDA approval of Restylane® for lip augmentation would allow the manufacturer of the injectable gel, Medicis Pharmaceutical Corp, to market the product as a long lasting lip plumping agent.
Restylane® is commonly used to reduce the appearance of laugh lines, facial folds, and other wrinkles. Because of its ability to add volume to specific areas of the face, plastic surgeons began using Restylane® off-label to plump up the lips. Pasadena plastic surgeon Martin O'Toole uses Restylane®, and its competitors JUVÉDERM™ Injectable Gel (manufactured by Allergan) and Radiesse® (manufactured by Merz Aesthetics, Inc.), to enhance the lips. Each of these products offers its own set of advantages and result in excellent results for patients that want fuller lips.
Although plastic surgeons are using different types of dermal fillers to safely and effectively augment the lips, it appears that Restylane® will be the first to gain FDA approval. The FDA still needs to make a final decision on the matter, but generally the agency agrees with its advisory panels' recommendations.
Most of the panel's members said that they were confidant in the efficacy and safety data regarding the use of Restylane® as a lip plumper.  However, one member of the panel did not vote due to concerns about how repeated treatments could affect younger patients.
The panel noted that Restylane® is "highly effective" for lip enhancement and that results of the product last as long as six months. However, some panel members and staff suggested that long-term safety studies be conducted on young adults and people of color.
Pasadena Restylane® expert Martin O'Toole has years of experience performing lip augmentation and wrinkle reduction treatment using dermal fillers. If you are interested in undergoing treatment, contact Pasadena Cosmetic Surgery today.