3 Minute Read: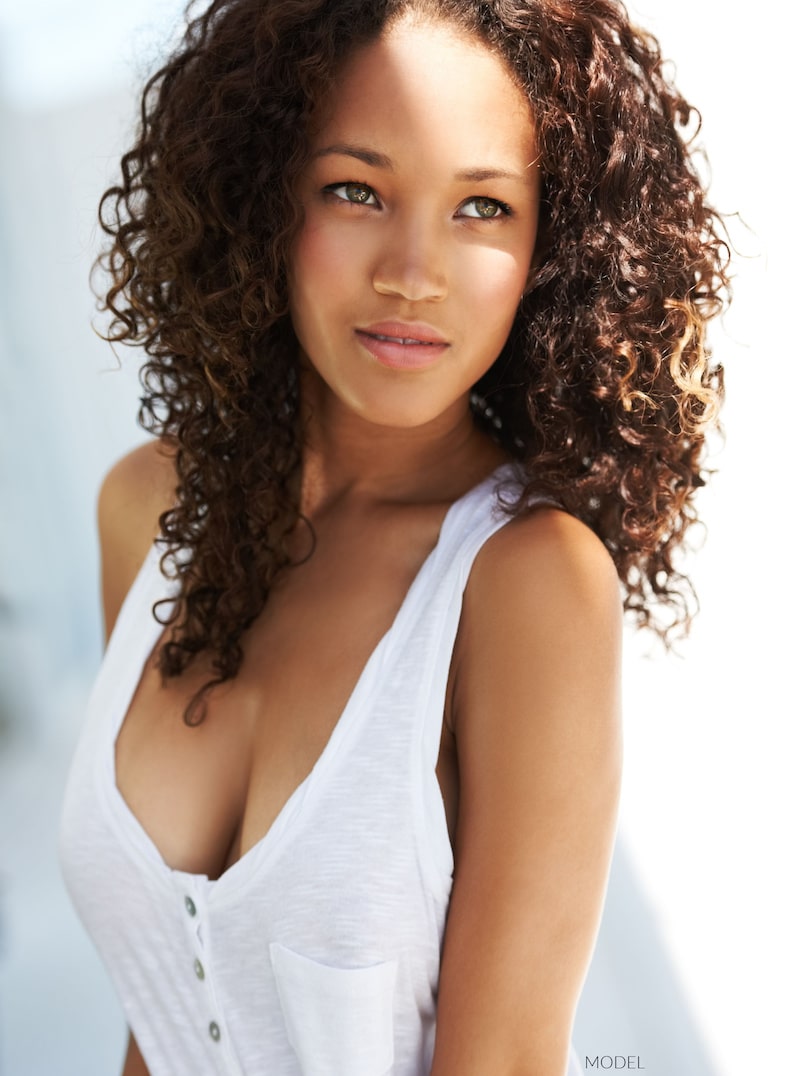 When it comes to breast augmentation, women's goals vary significantly. Some want a dramatic size increase with full cleavage, some want a more subtle change, and others want their breast implants to look as natural as possible. 
When seeking natural-looking breast implants, the five most important things to think about include:
Material

Placement

Shape

Size

Incision Location
Breast Implant Material
You have two options to choose from for breast implant material: 
Generally, silicone offers a softer, more natural look and feel. However, the size of saline implants can be modified during the procedure to ensure the desired results. 
Saline implants appear rounder than silicone which may make them look less natural, and they are more prone to rippling, which is when the edges of the implants lift and become detectable through the skin. 
When silicone implants settle into the breast pocket, they can better mold with the surrounding structure, which tends to look more natural. 
Silicone implants are now made of a cohesive gel that resists leaking, even when torn or ruptured.
Breast Implant Placement
There are two basic placement options for breast implants:
For a more natural appearance, submuscular placement is often recommended. This is when the implant is placed under the muscles behind the softer, glandular breast tissue. 
Submuscular placement helps protect against capsular contracture and noticeable rippling. It is ideal for women with minimal natural breast tissue and athletes who want a subtle increase in the size of their breasts.
Subglandular placement is when implants are placed in front of the muscles but behind the glandular tissues. This placement method produces more cleavage and involves less post-operative discomfort as well as a shorter recovery time.
Breast Implant Shape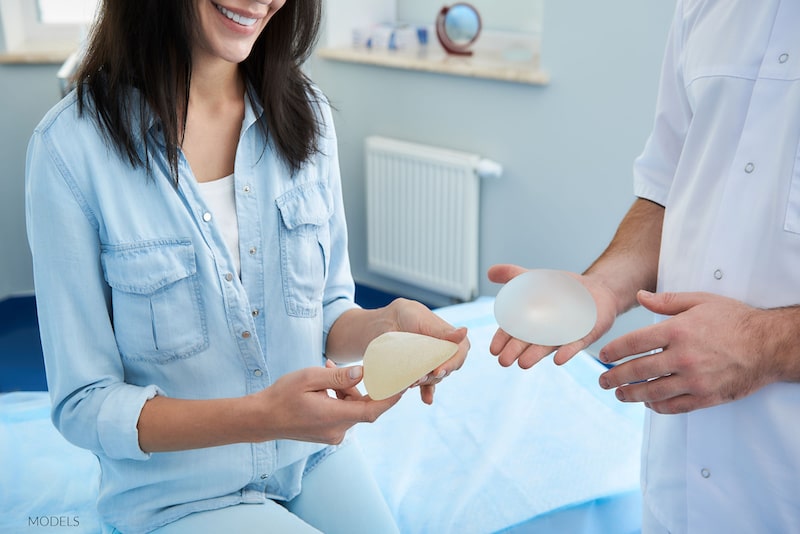 Many saline and silicone breast implants are round, with the exception of the gummy bear or anatomical breast implant. 
While many women have chosen gummy bear implants for a natural look, they can sometimes rotate in the breast pocket, leading to distortion. 
Round implants can move more easily without becoming distorted, and silicone implants tend to rest more naturally on the chest.
Breast Implant Size
You may want to be conservative if you desire natural-looking breasts after augmentation. 
Discuss your desired results and size choices with your surgeon thoroughly so that you are happy with the outcome of your surgery.
The most common complaint among breast augmentation patients is that the implant they chose wasn't big enough. 
Breast Implant Incision Location
The following three incision techniques are available when receiving breast implants.
Transaxillary

– Incisions are made in the armpit along the natural crease

Periareolar

– Circular incisions are made around the edges of the

areola

Inframammary

– Incisions are made in the crease under the bottom of the breasts 
The transaxillary method is typically reserved for saline implants with small incisions. This technique is also referred to as scarless breast augmentation.
The periareolar approach is ideal for women with darker areolas as the scars easily blend in with the surrounding tissue.
Inframammary incisions are versatile and can be used for most implants with both placement options. These scars tend to be larger but are well hidden under the breasts and fade over time.
Consulting With Your Plastic Surgeon
During your breast implant consultation, keeping the above information in mind will help you ask educated questions and get the answers you need when considering your choices.
Natural-Looking Breast Implants in
Pasadena, CA
At Pasadena Cosmetic Surgery in Pasadena, California, your breast augmentation consultation is free. Let our well-respected and board-certified doctor help you make informed decisions about your options to achieve natural-looking enhanced breasts. 
Call us today at (626) 449-8910 to schedule your consultation, or scroll down to contact us online.