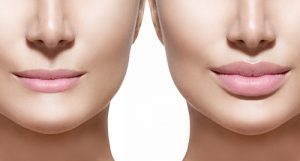 Even before the days of selfies and the desire to always be camera-ready, women of all ages have looked for ways to enhance the appearance and size of their lips. Full, sensuous lips have always been connected to physical beauty; it is the reason women have been applying lip liner and lipstick for so long. In recent years, an increasing number of women have opted for cosmetic treatments to take their pout to the next level.
Lip augmentation has never been more popular. Everyone wants to achieve robust lips, even girls in their teen years. Whether you were born with thin lips or aging has thinned them over the years, enhancing your lips is attainable at Pasadena Cosmetic Surgery.
Dr. O'Toole offers three different options to achieve the pucker you desire. Dermal fillers, fat transfer, and lip implants are all used to augment the lips. While all of these will provide noticeable results, it is essential to understand their differences to determine which is the best for you.
Subtle vs. Dramatic
The decision between subtle improvement versus a dramatic transformation should be your first consideration. While some women desire subtle, natural-looking fullness, others want more dramatic results. JUVÉDERM® fillers can be administered in minimal amounts to provide subtle and natural improvement to the lips, or larger amounts can be injected for a more substantial transformation.
Fat transfer, which uses fat harvested via liposuction from a different area of the patient's body, can create subtle and natural results. However, if it's a dramatic transformation you seek, lip implants may be your best option. These flexible implants come in a variety of sizes and are inserted in the top lip, bottom lip, or both to augment your pout.
Temporary vs. Permanent
If you are looking to try out lip augmentation but are not sure about a long-term commitment, it's never a bad idea to start with JUVÉDERM® fillers and see what you think of the look and how it transforms your face. If you love your look after fillers, you can maintain this look with touch-up filler treatments or move on to a more permanent option such as fat transfer or implants.
JUVÉDERM VOLBELLA® XC
This filler is designed to curate a subtle change to the lips, providing more volume and smoothing out lip lines. With optimal treatment, results can last for an entire year.
JUVÉDERM VOLLURE™ XC
This filler was developed to treat moderate to severe lines and wrinkles throughout the face. This treatment option can last up to 18 months under ideal conditions.
Fat Transfer or Implants
While fat transfer may require occasional touch-ups, it is considered a long-lasting option for lip augmentation. Lip implants are a permanent option and will not require any additional procedures.
Are You a Candidate?
Candidates for lip augmentation should be knowledgeable about their desires and realistic with their expectations. Also, candidates should be in good general health.
For more information about lip augmentation surgery or to schedule a consultation with Dr. O'Toole, give our office a call at 626-449-8910.