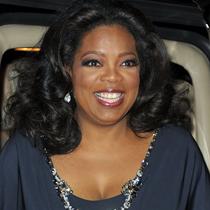 According to  a writer for The Los Angeles Times she made a plea to Oprah which read in part: Dear Oprah: Those health guests may not be so healthful. Dr. Christiane Northrup, Rhonda Byrne, Geneen Roth and Tony Robbins may be leading you astray. For better results, and to learn to love exercise, try these people instead. I understand why you have so many guests on your show offering advice about health. I'm not a fan of alternative medicine, but I know sensationalism sells. Stuff that stands up to scientific scrutiny often lacks the pizazz that makes for scintillating television.
And just because I'm not into aligning my chi or awakening my Tony Robbins giant within doesn't mean other people don't have the right to seek alternatives to modern medicine. I know you are interested in presenting the millions of people who watch "Oprah" with different options.
However, I'm concerned that some of the people you have had as guests on your show and highlighted on your website may have led you astray when it comes to your own battles with weight, a topic about which you've been admirably frank. For instance, it might be a good idea to get advice from a doctor who doesn't say things like many women develop thyroid problems due to "an energy blockage in the throat region" that develops over "a lifetime of 'swallowing' words one is aching to say," as your frequent guest Dr. Christiane Northrup writes in her book, "The Wisdom of Menopause," which you discussed and endorsed on your show.
You're not known for swallowing words, are you?
Few will dispute the wow factor of Oprah. Health professionals including plastic surgeons have spent untold hours dispelling myths and rumors which are based on false information from many sources, and published on the Internet or aired on TV. Oprah does not have monopoly on experts who distribute  information that may be misleading or false. Dr. O'Toole educates his patients and helps them to understand that television is not necessarily a tool for research. The same applies to the Internet. Before-and-after photos both online and pictured on television are not designed for patients to assume the same results. This includes breast augmentation photos, facelift photos, as well as liposuction photos. Patients must remember that television's main objective is to entertain.
___________________________________
Schedule your Consultation Today!
More on Dr.O'Toole 
Become a Fan on Facebook
Follow us on Twitter