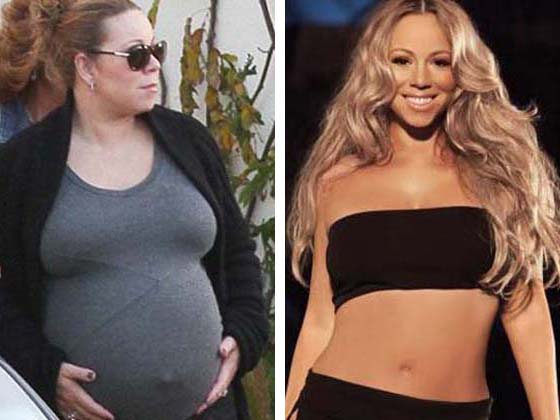 Mariah Carey appears to be the latest celebrity diet spokesperson under the critical eye of the public who doubts her weight loss is without cosmetic body contouring procedures. A recent celebrity blog raised the question whether or not Mariah Carey has had a tummy tuck. Plastic surgeons speculated that her navel is almost too round and perfect to be natural especially for a mother over 40 who gave birth to twins less than a year ago. Plastic surgeons speculated that most likely she had an abdominoplasty following the birth of the twins. Some plastic surgeons speculated that it could also be Photoshop.  Dr. O'Toole explains to his patients ad helps them to understand that after having children, especially multiple births most women have a large degree of loose and lax skin. In most cases the muscle is also stretched so the ability to have a completely flat abdomen without surgery is difficult. Many of Dr. O'Toole's patients elect for an abdominoplasty combined with breast augmentation. The procedure is known as a mommy makeover when  the surgeries are combined. The abdominoplasty gives patients the ability to have a flatter abdomen by removing excess skin and allowing Dr. O'Toole to tighten the muscle underneath. The breast augmentation in some cases includes both breast implants as well as a breast lift if there has been significant sagging and loss of volume. Although these procedures are combined most patients do not increase the recovery time substantially. Most patients can return to a desk type job in 10 to 14 days. Mothers who have young children are encouraged to have someone help them with the lifting of the child, housework, and lifting anything heavier than a gallon of milk. Recovery can be slowed substantially when patients exert themselves too early after surgery.Dr. O'Toole and his longtime patient coordinator Sarah help patients throughout the recovery process by answering questions and guiding them to the best plastic surgery recovery experience possible. Dr. O'Toole is committed to patients not only having an excellent plastic surgery experience but also excellent results in the safest manner possible.
___________________________________
Schedule your ConsultationToday!
More on Dr.O'Toole
Become a Fan on Facebook
Follow us on Twitter