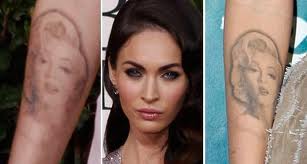 Photos taken of Megan Fox's arm at a recent event have sparked rumors that the Transformers actress is undergoing laser tattoo removal treatments to have her tattoo of Marilyn Monroe removed. The brunette bombshell got the tattoo in 2009 because she admires the film icon. However, she has received a lot of flack from the media and public for the Marilyn tattoo, mostly because it is so large and placed in such an obvious location. Fox has not yet commented on claims that she is having the ink removed, but photos reveal that the tattoo has faded significantly in the past few months.
Our Pasadena plastic surgery practice offers the laser tattoo removal procedure, which employs the use of brief bursts of laser energy to gradually break up tattoo ink. Most patients must go anywhere from five to 15 treatment sessions to successfully minimize the appearance of the tattoo. The number of treatments needed to remove the tattoo depends on its size, the type of ink used, the color of ink used, the age of the tattoo, where the tattoo is placed, the patient's skin tone, and the patient's own healing capabilities.
The laser tattoo removal procedure is generally the most effective on patients with:
Lighter skin tones
Amateur tattoo ink rather than professional tattoo ink
Tattoos on areas with more body fat, such as the arms, chest, butt, or legs
Black and red tattoos; blue, green, and yellow inks are more difficult to remove
Good immune systems
The majority of patients that undergo laser tattoo removal find that their tattoo will fade by at least 90 percent after undergoing the recommended number of treatments. Pasadena laser tattoo removal expert Martin O'Toole has experienced great success with the procedure. If you are interested in undergoing laser tattoo removal treatment, contact Pasadena Cosmetic Surgery today to schedule a consultation with us.