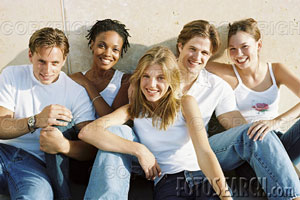 According to The Los Angeles Times The "before" and "after" drawings are rudimentary, the wiggly lines and stick-figure depictions typical of a child's untrained hand. But there is power in the expression.
In the first sketch, the round-faced boy calls himself "Sad Scott," his ears portrayed as giant balloons floating out from each side of his head. In the "after" drawing, completed post-surgery, the ears are non-distinct nubs, the tears are gone, and the sun smiles overhead. He is now "Glad Scott."
Every year, hundreds of thousands of children go under the knife in what has long been considered an adult undertaking — cosmetic surgery. Like their adult counterparts, they're seeking transformative escape from a host of imperfections, some perceived, some truly challenging. "In 2008 alone, nearly 300,000 teens underwent aesthetic plastic surgery," said Dr. Frederick N. Lukash, a board-certified plastic surgeon in New York and the spokesman for the American Society of Plastic Surgeons. "Those numbers are rising, and for every teen that underwent plastic surgery, 10 more are online right now researching the procedure they've been thinking about during every gym session, sleepover party or prom."
There is both dread and hope in that growing reality — dread for the kids who mistakenly believe plastic surgery can "cure" more deep-seated insecurities, hope for the many who have real deformities that surgery can forever erase.
This blooming trend, especially among 13- to 19-year-olds, is so common in 21st century America that one noted reconstructive and cosmetic specialist says plastic surgery for teens "is becoming mainstream."
It appears to be a bit overstated when the media claims a  huge surge in teen plastic surgery. In a challenged economy,it is even less likely that teenage patients are helping plastic surgeons maintain a thriving business. Dr. O'Toole is presented with teenaged patients who are excellent candidates for procedures like breast reduction, otoplasty, and gynecomastia surgery. For these procedures, provided the patient meets the necessary guidelines, there is no reason to withhold surgery from these patients.
___________________________________
Schedule your Consultation Today!
More on Dr.O'Toole 
Become a Fan on Facebook
Follow us on Twitter