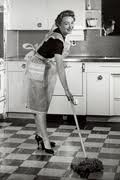 It seems as though 20 years ago you never heard the word obesity. The truth is, the behaviors of the past have led to the obesity epidemic of today. According to a recent Los Angeles Times article the behaviors of women particularly mothers that date back to the 50s have spiraled out of control leading to the obesity epidemic that we have today. According to the article, Sothern, a leading fitness and nutrition expert at Louisiana State University, she has a theory that the tide of obesity that has swept the nation in the last two decades had its roots in what young mothers did, or didn't do, in the postwar, suburban-sprouting 1950s. She thinks the obesity epidemic spiraled out of control in the 80's because a decade before mothers were more active taking care of closely spaced pregnancies, they smoked, and restricted their weight because of the frequent pregnancies and flurry of activities necessary to take care of young ones and a household. Sothern strongly believes that women who are obese should be discouraged from having children until they shed the pounds. She points to strong evidence that additional pounds gained with pregnancy added to an already obese patient quite often become a problem long term for the patient. Dr. O'Toole also encourages patients who are considering the mommy makeover which consist of breast augmentation and abdominoplasty after having children, to shed excess pounds prior to surgery. It is important to note, that patients who are at a stable weight in some cases can proceed with surgery, as it will allow them to exercise and continue to lose weight after the procedure. Dr. O'Toole and his knowledgeable patient coordinator Sarah work hard to encourage their patients not to give up on having the plastic surgery procedure. It can be disheartening to turn the patient away asking them to lose 20 to 40 pounds prior to surgery. Dr. O'Toole and his staff are committed to helping patients have the surgery that they would desire with the best possible chances of having an exceptional result and experience. In many cases, Sarah will continue conversations and support with patients prior to surgery helping them to reach their goal weight and have their surgery. The abdominoplasty allows the patient to have a flat and contoured abdomen by removing the excess skin and tightening the abdominal muscle. The breast augmentation allows for better contour with breast implants that allow for a more youthful and firm looking breast. Dr. O'Toole and his staff are committed to helping patients avoid being part of the obesity epidemic by offering viable solutions to maintaining their best and most healthy appearance.
___________________________________
Schedule your ConsultationToday!
More on Dr.O'Toole
Become a Fan on Facebook
Follow us on Twitter