Los Angeles breast surgeon Dr. Martin O'Toole offers various types of breast implants, allowing him to meet the specific needs of each of our patients. Among your options are silicone breast implants, an implant type that offers many distinct advantages over saline alternatives.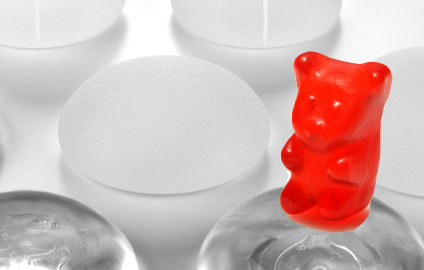 Silicone breast implants tend to look and feel more like natural breast tissue. Placed above or below the chest muscles, advanced options such as gummy bear breast implants are less likely to ripple, wrinkle, or crease, and may even help reduce risks for things such as capsular contracture – making these implants ideal for many of our patients.
While ideal for many, silicone implants do require a larger incision and their placement may slightly increase your breast augmentation surgical and recovery periods. These implants are also not available to women under the age of 22, though they can be used during breast augmentation revision surgeries if saline implants are being replaced.
Dr. O'Toole is a board-certified and experienced plastic surgeon who takes time to fully assess the physical requirements and personal desires of each of our patients. He welcomes an opportunity to meet with you to help you determine which type of breast implant can best help you reach your goals.
To schedule your consultation with our board-certified breast surgeon, please contact Pasadena Cosmetic Surgery today. Dr. O'Toole serves Los Angeles, Beverly Hills, Hollywood, and surrounding areas of California.