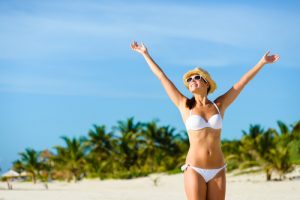 With the temperatures already rising here in Southern California, it's a reminder that summer really is just around the corner. And of course, once we start talking about summer, we start talking about all the beach trips and backyard barbeques that are sure to follow. If you are considering getting a little "help" to look flawless in your bikini this year, then now is the perfect time to get a jump start on your summer body.
Get Ready for Summer
When you think about looking good in a bikini, specific body areas tend to come to mind: your stomach, hips, butt, and chest. Enhance your physique this year and raise your confidence levels by considering one (or a few) of the following procedures.
Liposuction
Liposuction is one of the most common ways to prepare not only for summer but any special occasion. Many people have stubborn pockets of fat that seem to catch unwanted attention at every turn. Let liposuction take care of those pockets for you, allowing you to be leaner, toner, and ready to flaunt those curves.
Brazilian Butt Lift
While we're talking about liposuction, a Brazilian Butt Lift is the perfect combination procedure. A Brazilian Butt Lift uses the fat that's been harvested through liposuction to augment and add definition to an otherwise flat backside. Enhance and achieve a more feminine physique by turning the fat you don't want into the fat you do.
Tummy Tuck
Achieve a sculpted and contoured midsection with a tummy tuck. Tummy tuck surgery addresses excess skin and fat in the lower abdomen while tightening the loose or separated muscles underneath. Don't let a flabby stomach hold you back from the look you desire.
Breast Augmentation
If you are feeling self-conscious about the look of your breasts in dresses, tight shirts, or bikinis, then breast augmentation is the procedure for you. Breast augmentation can enhance the size and shape of your breasts, and whether you are looking for a subtle or more noticeable increase, breast implants can achieve the womanly curves you've always desired.
The Ideal Time Is Now
While it may seem a little early to start thinking about sundresses, short shorts, and bikinis, spring is the time to take the initiative to be ready for the summer months. All cosmetic procedures, including the ones listed above, require an adequate amount of recovery time for the bruising, swelling, and discomfort to subside. For most procedures, you can expect your recovery period to last four to six weeks, where your level of activity will be limited. Why spend your summer in recovery when you would rather be outdoors?