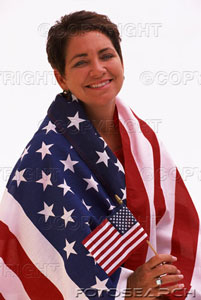 According to CBS 8 Old Glory is getting a new look that some critics say is anything but patriotic.
The trendy item — complete with with holes resembling cigarette burns and safety pins holding together the frayed openings along the sides — is fetching upwards of $1,500 this spring after its debut from French design firm Balmain.
Celebrities like Kate Bosworth and Ke$ha have been spotted wearing knockoffs of the original at the recent Coachella music festival in Indio, but critics say the shirt is disrespectful and in plain old bad taste.
Fashion expert Alexander Allen tells KFWB 980′s Maggie McKay those criticisms are unfounded.
"I think those are people who are a little too sensitive and thinking too hard about it," Allen said. "It's nothing against America…this is fashion, and in fashion it's all about escapism."
When a designer uses the American flag in his designs he is bound to be criticized. Regardless of which type of tank top you are wearing this summer most women desire a curvy look. Dr. O'Toole recommends breast augmentation to create a more proportioned look for women. Women who have a sagging component to their breast may need a breast lift as well. In most cases both procedures can be performed together. Most women double their wardrobe choices after breast augmentation.
___________________________________
Schedule your Consultation Today!
More on Dr.O'Toole
Become a Fan on Facebook
Follow us on Twitter