5 Minute Read: 
Many people think that cosmetic surgery is only meant for older individuals who are battling the natural effects of age. However, this just isn't true. Women and men of all ages can benefit from various surgical and non-surgical cosmetic procedures; this is because plastic surgery helps people achieve their ideal appearances, allowing them to gain a new level of confidence.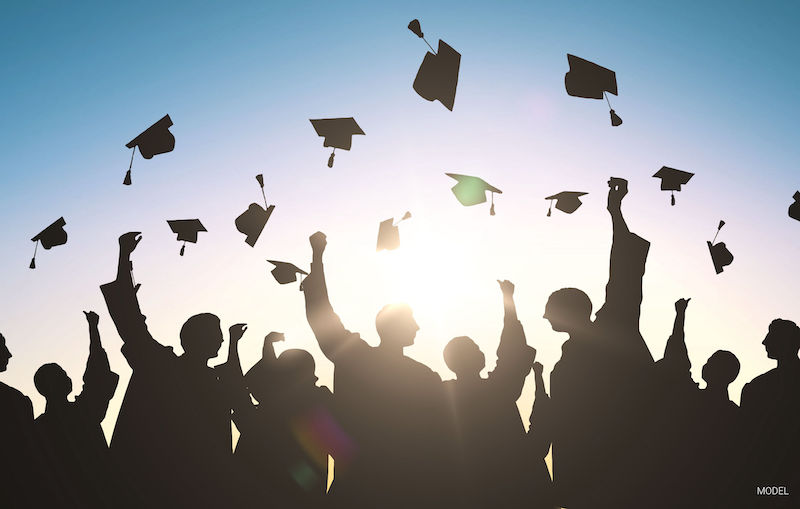 This can make cosmetic surgery a great option for recent graduates (from college or even high school in some instances). 
Instead of gifting money or some other standard graduation gift, you might want to consider gifting your graduate with aesthetic improvements that they can take into the next stage of life. 
Below are some of the best cosmetic procedures for recent graduates.
Non-surgical Procedures
While it is true that most graduates are not at the age where they would want to consider anti-aging treatments, they can still benefit from non-surgical procedures like laser skin resurfacing, chemical peels, laser hair removal, and dermal fillers. 
Laser skin resurfacing and chemical peels are beneficial for younger individuals to address concerns like tone and texture issues, large pores, acne scars, and active acne. They are also great ways to "rejuvenate" the skin for lasting skin health and strength. 
Laser hair removal is beneficial for patients of all ages to get rid of unwanted hair on the body and face, including the legs, backs, bikini area, underarms, face, and more. 
Injectable procedures can also benefit younger individuals. Dermal fillers (JUVÉDERM®) can increase volume in the lips and cheeks, and KYBELLA® can get rid of unwanted submental fat (double chin).  
Skin Care
It is never too early to start a quality at-home skin care routine. Pasadena Cosmetic Surgery offers a complete line of SkinMedica® products to help keep your complexion glowing and your skin strong.
Facial Cosmetic Surgery
There are two facial procedures that can be beneficial to women and men in their late teens and early twenties: otoplasty and rhinoplasty.
Otoplasty
Otoplasty (corrective ear surgery) is one of the only plastic surgery procedures that can be performed on people of all ages, including young children. And not only that, but otoplasty can help restore a person's comfort and confidence in how they look. 
Struggling with ears that are too large for a person's face or ears that stick out from the sides of a person's head can be frustrating and embarrassing. Otoplasty is a procedure that pins the ears closer to the sides of the face and makes them proportional to the rest of the face, thereby creating a more natural and attractive appearance. 
Rhinoplasty
Similar to aesthetic issues with the ears, cosmetic concerns with the nose can plague a person from a young age. And while some patients undergo rhinoplasty (cosmetic nose surgery) to correct a broken nose, the majority of patients who undergo rhinoplasty do so to correct natural issues, such as noses that are too larger or small, noses with an upturned or downturned tip, or noses with nasal humps. 
Since the nose is so central (literally and figuratively) to the entire face, rhinoplasty can help significantly improve a person's entire facial appearance, which can help them attack the world with newfound confidence.
Breast Procedures
Along with cosmetic surgery for the ears and nose, many young adults (both female and male) struggle with aesthetic frustrations in their chests. 
Below are some of the most popular and effective breast procedures that people of all ages can benefit from.
Breast Reduction
Many young women struggle with overly large breasts that develop in their teens, causing physical pain in the neck and back, unwanted attention ,and an inability to participate in some of their favorite athletic activities comfortably. 
Breast reduction surgery can help women of all ages achieve breasts that are proportional to the rest of their bodies. For this procedure, breast tissue, fat, and excess skin are surgically removed. 
Breast Augmentation
For some women, their naturally small breasts may cause them to feel insecure and self-conscious. These women may desire breasts that better highlight their feminine contours and allow them to wear the clothing (dresses, tops, and bikinis) that they've always wanted to. Breast augmentation surgery is a procedure where breast implants are used to improve the size, shape, and volume of the breasts.
Saline breast implants are approved for women over the age of 18; however, silicone breast implants are not approved until after the age of 22.
Gynecomastia Surgery
Many people think that "breast procedures" are only meant for females. However, many males (of all ages) suffer from gynecomastia, a condition where fat and/or breast tissue create breasts. Though gynecomastia is extremely common for men of all ages (from pubescent boys to elderly men), this condition can be one of the most embarrassing cosmetic issues for males. 
Gynecomastia surgery (male breast reduction) is a transformative procedure that can help men achieve a more masculine appearance to their chests. This can help improve their self-esteem and sense of comfort. No longer will men feel the need to hide their bodies under baggy shirts. Instead, they can look forward to showing off their physiques with confidence. 
In the End…
Plastic surgery (whether it be for the body, breast, or face) can help your graduate look and feel their absolute best. Their procedure can help them begin the next part of their life's journey (whether it be college or a professional career) with a sense of pride and excitement in how they look. 
This graduation season, think of giving your graduate a gift that can truly last a lifetime…
Want to Learn More?
If you are interested in the procedures discussed above or any of the other plastic surgery procedures we offer, then give us a call today at (626) 671-1756, or fill out our online form here. 
Dr. Martin O'Toole and Dr. Adam O'Toole see patients from the Los Angeles, Beverly Hills, and Hollywood areas.