3 Minute Read: 
It's no secret that full lips are one of the hallmarks of a beautiful face, and if you were born with them, consider yourself lucky. However, not everyone is blessed with such smackers, and many women seek to improve their size and shape.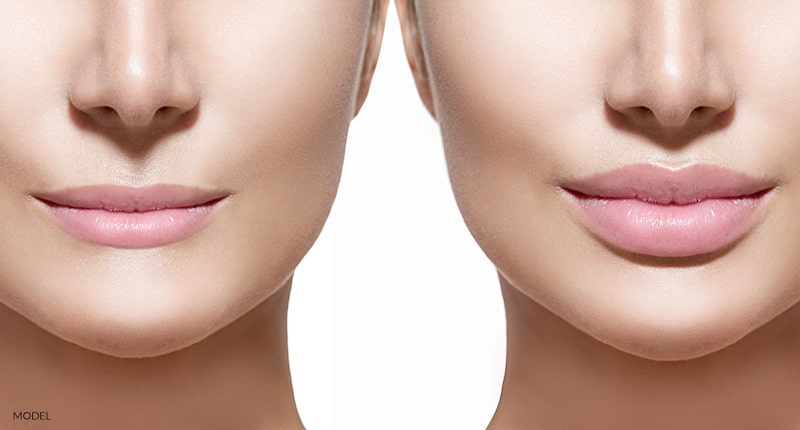 There are a couple of reasons you might want to increase the size or change the shape of your lips.
Aging may have caused a decrease in lip volume and increased space between the base of your nose and the top of your lip, also known as

lip length

.

You have always had

thin lips

.
Benefits of
Lip Augmentation
Receiving treatment to augment your lips offers the following benefits:
Increased lip volume

Enhanced lip shape

Reduction in fine lines around the lips

Boosted confidence
Lip Augmentation Options
Depending on your goals, the following three lip augmentation options are available, and one of them is sure to meet your needs. 
Dermal fillers

Fat transfer

Lip implants
Let's take a look at how these three cosmetic lip treatments work.
1. Cosmetic Injectables
/ Dermal Fillers
Injectable facial fillers like JUVÉDERM® are made from hyaluronic acid, which is found naturally in your body, and can add varying degrees of fullness to your lips. 
An injectable filler is often the first treatment of choice when augmenting the lips because it is temporary (lasting up to a year) and can allow you to "try on" your new lips before choosing a more permanent solution.
You can also decide to stick to lip fillers and just return to your provider to maintain your lip's volume and shape.
2. Fat Transfer to the Lips
The fat transfer technique is another popular way to add volume to your lips, and while it's not a completely permanent solution, the results of lip augmentation with fat transfer can last up to five years.
The fat transfer method involves harvesting fat from another part of your body (usually the abdomen) to enhance your lips.
Following the fat transfer procedure, your lips will be much fuller, and you can expect some of the fat to be absorbed back into your body over the next few weeks, at which time your final results will be clear. 
The fat transfer method is ideal to combine with a fat-reducing treatment like liposuction, as this procedure will be used to obtain the fat used to enhance your lips.
3. Lip Augmentation With Implants
When you are ready for permanent lip augmentation, lip implants may be your best option. This method involves using an implant made of silicone or expanded polytetrafluoroethylene and includes a variety of shapes and sizes to customize your results.
This approach is often used in conjunction with other surgical facial procedures like a facelift, eyelid surgery (blepharoplasty), or a brow lift.
Lip Augmentation in
Pasadena, CA
Whichever technique you are considering, a consultation with Dr. Martin O'Toole or Dr. Adam O'Toole at Pasadena Cosmetic Surgery can help you better understand your lip augmentation options, so you can achieve the temporary or permanent results you desire.
If you live in or near Pasadena, or Los Angeles, California, schedule your lip augmentation consultation today by calling (626) 671-1756 or scrolling down to contact us online.